Hi, friends are you tired of bulky things that don't fit in your pockets or backpack. Here is 10 Amazing MINI Gadgets On Amazon You Need To See To Believe. Today we will look at 10 unusual mini Gadgets that will impress you with their size. in order not to miss new posts with Maximez, subscribe to our website. Lets see 10 Amazing MINI Gadgets below.
1. Mini phone:
We think this is the smallest phone in the world, well it won't be convenient to use such a smartphone as you do with modern phones. But it is an interesting gadget definitely after all in addition to the standard features of the phone and Bluetooth support. This model has a switch with 13 built-in voices to prank your friends. By the way, if you don't like the push-button phone there's also a model with a larger screen.
2. Key-chain power bank:
Are you tired of carrying a bulky power bank? We have found a great alternative for you which does not take up much space, unlike the standard ones, and connects directly to your smartphone without a cable. There are models for iPhone and Android smartphones. The battery capacity is small due to its size only 1000 to 1800 milliamp hours pending on the model. But it's enough for an emergency charge by the way if the capacity is not enough for you, you can get a bigger power bank it has 3400 milliamp-hours capacity. 
3. Pocket Laptop: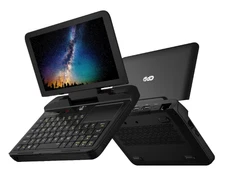 What do you think about a small laptop though it's not even 11 inches as you might think, 7 inches only even with such modest size? This laptop is in full HD resolution and is equipped with an Intel Atom processor and eight gigs of RAM. Yeah this monster is not suitable for computer games but it'll be just right for surfing the internet, also it has a touchscreen.
4. Portable Ultra Mini Camera:
Do you want to have a camera with you at hand to take photos of friends fails or a tornado, for example, we found a compact camera that can be carried as a keychain. surprisingly it can take videos and pictures. You just need to switch modes by pressing the button, of course, the quality of the recording can't be compared even with your smartphone, but we think someone will need such a camera. 
5. Mini laser engraver:
Look what kind of a cool cube we have found for you. This is an engraver that can burn pictures directly from your smartphone on wood leather and paper. For example to create a unique case for your smartphone. It works quite simply to set the picture in the special QBO app placed the desired object in front of the QBO on the working area of the engraver. But on safety glasses and press the button you will agree this is quite an interesting gadget.
6. Mini slot machines:
Do you miss slot machines if you're bored with modern games and you want new feelings? Pay attention to the mini slot machine with 40 installed games from your childhood and you no longer need a bunch of coins to play the games. All progress is automatically saved, by the way, if you want to play games with friends you can buy two game pads and display the image on your TV via HDMI.
7. Desktop Mini Pool:
And now this is a desktop game, which you can play with a friend. This billiard set with the table is so small that it can even fit on a stool. Of course, there are bigger options but be sure all of them can be placed on your table. This set includes a table to pool sticks 15 balls a brush, cue ball, and a racking triangle. In general everything, you need for the game. 
8. Mini Desktop bowling:
If you are not surprised by desktop billiards and here is desktop bowling for you. The bowling ball is pushed by a finger the bowling alley is made of natural wood so you don't have to worry about the toxicity of materials. 
9. Retro Bluetooth speaker:
The following device not only has miniature size but is also made in the style of retro radios. As you might have guessed, this is a Bluetooth speaker that works like a standard one and can play music not only via Bluetooth but also via memory cards, auxiliary cable, or via USB. This speaker runs on a fully charged battery for 10 hours.
10. Magic 8 Ball:
If you watch the movie interstate 60, then you remember a magic ball from the movie. We found a smaller copy of it with 10 possible answers that you can always carry in your pocket and when you doubt any decision to shake the ball and it will give you the answer. 
See the list below to buy these mini Gadgets from Amazon
If you liked these 10 Amazing MINI Gadgets, write in the comments what mini gadget surprised you the most.